A&J Mixer Range
Standard – Batch or Continuous
Vacuum Coater – for effective particle coating under vacuum
A&J Standard Mixer
Offering efficient and cost-effective blending of powders, granules, fibres, flakes, and pellets. Offered in mild or stainless steel. Custom design available to meet your specific requirements.
Product Offerings
High mix repeatability between batches, thus improved overall product quality
Accepts variable flow rates
Available to work with minor scheduled maintenance every three years
Blends friable ingredients
Shear-makers break lumps, eliminating requirement for additional equipment
Industry
Applications
Food Industry

Ground coffee
Infant formula
Snack foods

Chemical Industry

Carpet freshener
Planting chemicals
Compost
Powdered metals
---
A&J Continuous Mixer
Features
99.8% efficiency rating
Mixing without degradation
Discharge weir on end plate automatically maintains proper fill level
Flush mounted, self-adjusting, contoured port discharge door to empty mixer at end of campaign
Shaft-mounted gear motor drive
Liquid addition manifolds
Optional shear-maker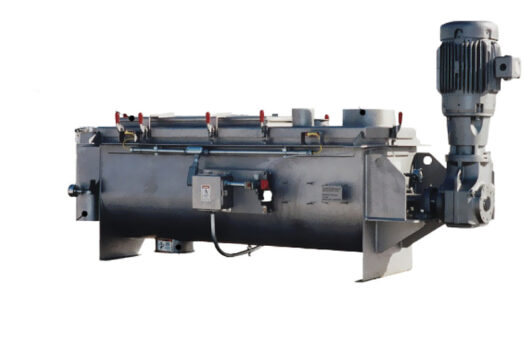 ---
Vacuum Coater
Product Offerings
High mix repeatability between batches
Blend friable ingredients, no post screening required
Operational Flexibility: coat then vacuum or vacuum then coat
Longer pump and filter life through use of smaller (hot running) vacuum pump thereby eliminating condensation
No "salt & pepper" effect, completely even coatings
Mix and coat without degradation
Low operating costs due to efficient design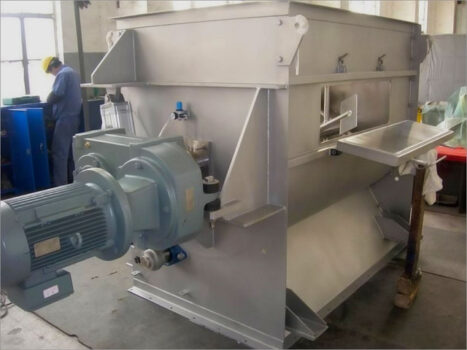 Complete packaged system available includes pressure vessel, vacuum pumps, receiver, oil tanks, valves, piping and controls.
| Mixer | Applications |
| --- | --- |
| A&J Vacuum Coater | |
---