About Filter Presses
Filter presses are used for coarse filtration, filtering the thickener underflow in processing plants is an example of filter press application. A single filter press can only be operated in batch process. For continuous processing, two or more units are required.
How Filter Press Works
Plates are compressed using a hydraulic pump. The slurry is then pumped into the plates, as the slurry passes through the filter media cake starts to form in the void between the plates.
The filtrate discharges out through the side of the plates. As the feed pump builds up pressure, the cake formation continues until the maximum pressure or maximum/desired cake thickness is reached.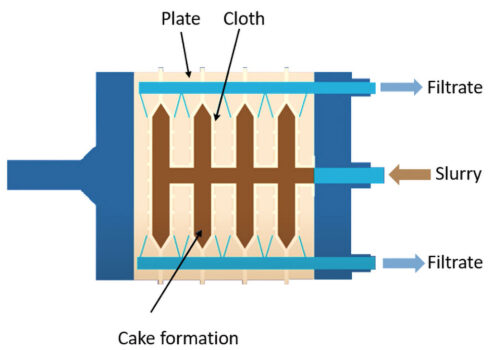 Filter Press Applications
Filter Press

Water and Wastewater Treatment
Concrete Recycling
---
CPE Filter Press
CPE offers filter presses in a range of configurations, operating modes can be manual, semi-automatic or fully automatic.
PLC systems are configured and programmed to suit your process requirement.
We supply world standard filter press solutions, including all ancillary equipment. Our filter presses are configured to suit each processing requirement and achieve the most efficient outcome for the customer.
Product Features
Sidebar design with engineered weldment box section beams
Carbon steel epoxy coated, stainless steel-clad or complete stainless steel construction
Custom valve and manifold options for cake wash, two direction cake wash, cake drying and multidirectional flow path options
Allen Bradley PLC system designed in house
Immediate PLC re-programming available to address any changes in process requirements
Large plate configurations and size ranges available to suit any application
Single plate, multi plate or entire plate pack discharge systems for high speed operation
Special options: sidebar or overhead frame, membrane squeeze, cake blow, wash pumps, supply pumps, conveyor
PVDF material is used for applications with elevated temperature exposure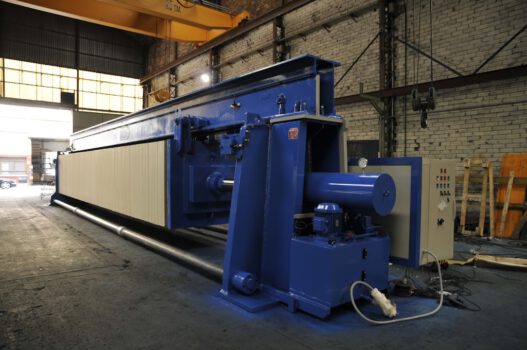 Our High Yield Filter Press Model offers the following features:
Fast vessel opening
Fast cloth washing
Sealed recessed and membrane plates with large adjustment capacities
4 side pulling cylinders for plate alignment
---
Why Use CPE Filter Press
Fast and reliable filtration and cloth wash
Wide range of machine configurations to suit your process
Fast delivery
Pre-commissioning in Australia
Compliance with Australian Standards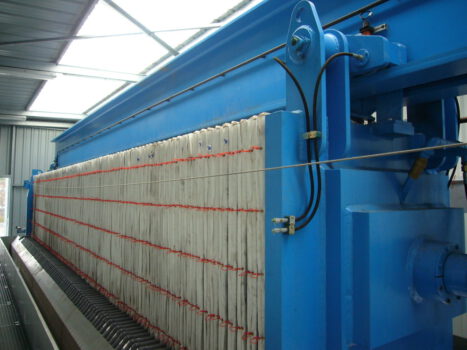 ---