Wine and Spirit Agitators
CPE is the world leading designer and supplier of wine and spirits agitation solutions, with numerous installations at major wine and spirits making plants across the world.
Vinfoil® RTF4 and P Series
Used for storage and processing of wine & spirits
VINFOIL-RTF4 suitable for gentle blending – top or side entry mounts
VINFOIL-P suitable for additive mixing – top entry mount
Direct drive and gear reduced motor
Retractable agitator option for easy and safe maintenance
Explosion proof motor for spirits applications
Special agitator system for mixing in pressure vessels (Charmat Method)
Various seal options (stuffing box, mechanical, lip, hydraulic)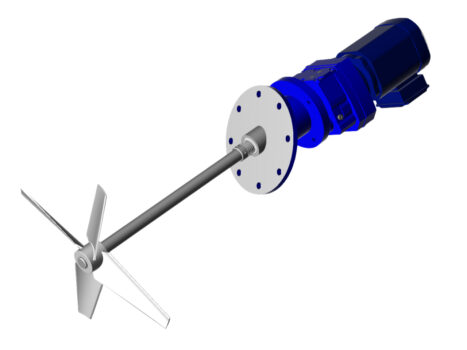 Mixing Wine With An Agitator
Gentle mixing of wine or spirits can significantly improve the product consistency and enhance production by creating or accelerating blending, solid suspension, or heat and mass transfer mechanisms.
Unlike the traditional blending methods such as pump over, VINFOIL® can provide thorough and gentle blending of wine or spirits for minimum energy input.
Pump over method
leaves dead zones in the tank, which results in inadequate wine mixing and inconsistency in the quality of produced wine. Pump over can also be harsh on the wine, damaging the wine structure and negatively affecting the taste of the produced wine.
Vinfoil® provides thorough yet gentle mixing of wine, resulting in a wine with better mouthfeel.
As a result, Wine & Spirit makers can benefit from:
Greater product quality (taste, appearance, and aroma compounds)
Maximum plant utilisation
Significantly lower operating cost
Laboratory testing and pilot plant units available for trial and thorough process analysis before purchase and installation
Learn more about our world leading impeller technology.
Vinfoil® Applications
Agitator Applications

Blending and fermentation of wine
Additive mixing (bentonite, etc.)
Flavour extraction (oaking, etc.)
Cold stabilisation
Sugar extraction
Alcohol level adjustment
---
Agitator Process Optimisation
In addition to agitator supply, we have decades of knowledge and experience in agitation process optimisation. Our experts can analyse your process and offer you cost-effective solutions to:
reduce your blend time
reduce your power consumption
increase your tank utilisation
improve your product quality and consistency
VINFOIL® is the number one agitation solution among the major wine and spirit producers worldwide.
---