CPE Rotary Drum Vacuum Filters
Chemical Plant & Engineering has been a world leading designer and supplier of Rotary Drum Vacuum Filters for decades. Our drum filters are used in various industries including mineral processing, chemical, pharmaceutical, and food and beverage.
We can custom design drum filters to suit your process needs.
Main Applications of Rotary Drum Vacuum Filters
Rotary Drum Vacuum Filters

Alumina refineries (red mud filtration, fine oxalate seed filtration)
Iron ore refineries
Gold refineries
Dewatering in gold, nickel, cobalt, graphite refineries
Titanium Dioxide (TiO2) production
Pharmaceutical and food dewatering applications
When is Rotary Vacuum Drum Filter Used?
Rotary drum filters are usually used for continuous dewatering of slurries with coarse aggregates. Drum filters are suitable for slurries with high solids contents (2-40 wt. %).
Either cake or filtrate can be the filtration product.
---
How CPE Rotary Drum Vacuum Filters Work
This filter type consists of a cloth covered drum rotating in a tank. The surface of the drum is divided into shallow compartments which are connected to an automatic for vacuum application.
As the drum rotates, each compartment goes through the same cycle of operation: filtration, de-watering & cake discharge, reconditioning or cloth cleaning.
Vacuum is applied to submerged segments, which causes the mother liquor to flow through the filter cloth, while solids build up on the cloth to form the cake.
As sections emerge from the tank, the vacuum de-waters the cake.
When all mother liquor has been removed, the vacuum is automatically cut off and the cake is discharged from the drum.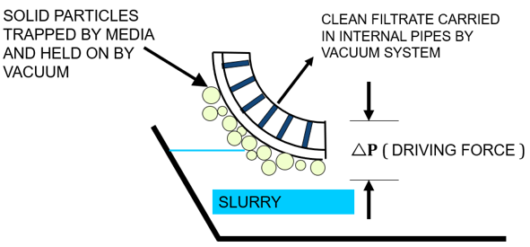 Filter Discharge Systems
CPE drum filters are available in five different cake discharge systems: Blow back scraper, Roller, String, Belt, Knife advance – pre coat. The drum filters pre coat system may enhance filtrate clarity or assist with cake build up.
Filtration areas range from 1 to 240 m2.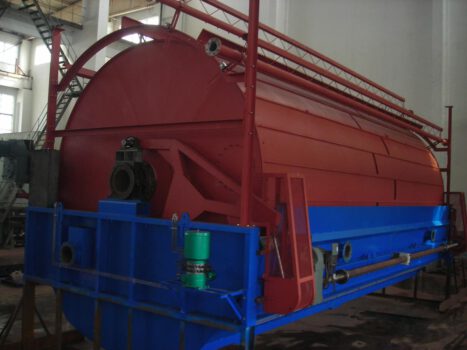 ---
Filtration Process Optimisation
We offer retrofit and upgrade services for drum filters aiming to enhance the filtration performance and capacity, increase operation safety, and reduce recurring maintenance shutdowns.
---