What is a Rotary Vacuum Pan Filter?
Rotary vacuum pan filter, also referred to as horizontal pan filter is used for continuous filtration of rapid settling, free filtering solids and is designed for ease of installation and simple reliable operation.
Pan filters provide rapid de-watering and efficient cake washing at large capacities.
Main Applications of Rotary Vacuum Pan Filters
Pan Filter Applications

Alumina Hydrate Filtration
Iron Ore Dewatering
Gold Refineries
Dewatering in Nickel, Cobalt, and Graphite Refineries
Pot Ash Processing
Sand Oil Filtration
---
How CPE Rotary Vacuum Pan Filters Work
The pan is divided into wedge shaped segments and rotates at a speed from 0.1 to 2.0 rpm.
All segments are covered with filter media appropriate to the slurry and evacuated through an automatic valve which separates the mother liquor from the wash liquor when wash operations are required.
The feed slurry enters the top mounted feed box which distributes the slurry evenly across the pan and the mother liquor is quickly removed under the combined forces of vacuum and gravity.
Read more about the Rotary Pan filter special features and our filter design capabilities.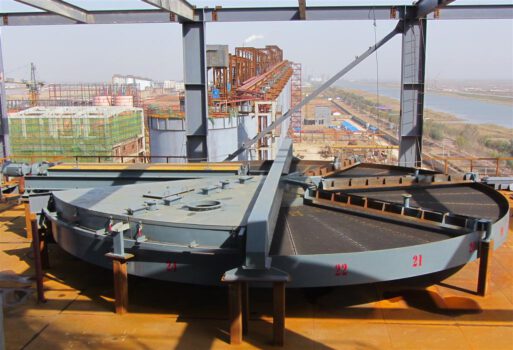 Following the removal of the mother liquor, one or more wash operations can be performed as required using flood, spray or dip wash techniques as required by the application.
After the final dewatering has been accomplished, the cake is automatically removed from the pan by a scroll and deposited into the discharge chute. Low pressure blow-back air and backwash sprays are then applied to clean the cloth and re-slurry the cake heel just prior to the feed box.
CPE Pan Filter Features
| Feature | Description |
| --- | --- |
| Centre Hub with 3-Piece Design | Offering pan deck flatness of +/- 1.0 mm |
| Feed Trough | Rather than a single or dual filling point |
| Washing Weirs | Flooded design to ensure even wash throughout the circumference of the pan |
| Valve Design | Enhanced wear performance, simple changeover maintenance, minimised friction loses caused by the sharp transition from the pan deck to the valve system |
| Drainage Inserts | Accelerates drainage rates |
---
When is Rotary Vacuum Pan Filter Used
Rotary pan filters are usually used for continuous dewatering of slurries with coarse aggregates and medium to high solids contents. Cake is the filtration product. Pan filters are suitable for the applications where multiple cake wash is required.
Why Use CPE Pan Filters
High throughput per square meter of filtering area
Filtration and wash stages visible for ease of control
Multiple wash stages including counter current washing
Superior pan flatness for minimum cake heel
Decade of design and manufacture experience
Retrofit and modification services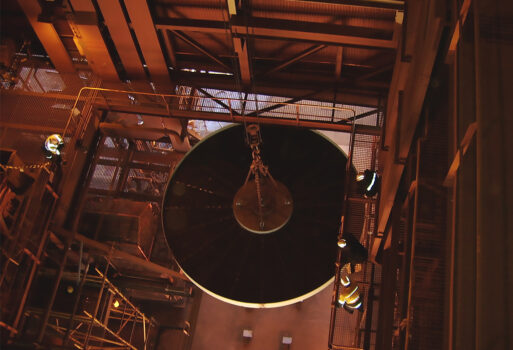 For decades, CPE has pioneered the design modification of horizontal pan filters. Our pan filter design today has evolved to be the best in its class with below key features:
---
Filtration Process Optimisation
We offer retrofit and upgrade services for pan filters aiming to enhance the filtration performance and capacity, increase operation safety, and reduce recurring maintenance shutdowns.
---