Advantages of Cricket Filters
Cricket filters have the design advantages of both pressure leaf filters and candle filters combined without having their drawbacks. These filters operate in a vertical pressure vessel with filter medium covering internal filtrate flow pipes, offering both dry and wet cake discharge.
Cricket filters are often used as a dynamic thickener or as a polishing filter after pressure leaf or vacuum filters.
CPE Cricket Filters
Chemical Plant & Engineering offers a range of Cricket filters for fine filtration in various applications, such as food, chemical, and water/wastewater treatment. We custom design filters to suit your specific process needs.
Cricket Filter Applications
CPE Cricket Filter

Dewatering PLF filtrate
Finer filtration (0.3 wt. %)
Liquid polishing in carbonation, sulphitation, thick juice, and process water
Sodium Bicarbonate Purification
---
Why Use CPE Cricket Filters
Higher filtration velocities
Lower sluicing volume per unit of filtration area
Large filtration area in small tank volume – due to shape and positioning of filter elements
High liquid throughput without filter cake erosion – up to 10 m3/m2h
High filtrate clarity
Filter media with low micron rating (optional) – clear filtrate from the start
Short regeneration times
Fully automated
Normally no pre-coating needed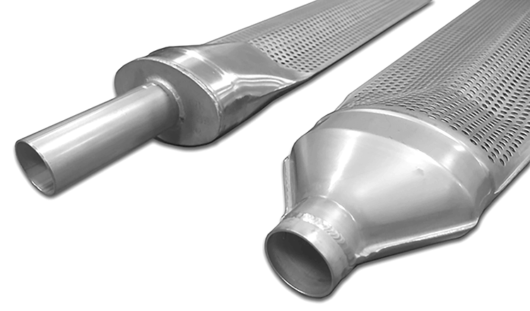 Key Features of CPE Cricket Filters
Elements on internal filtrate manifolds: separate flow control possible, thus cake discharge for manifolds individually or in groups
Filter elements: Small internal volume, thus cake release with minimum backwash liquid
Internal filtrate pipe rising from bottom, thus no solids deposited in the filter element
Intensive cleaning of filter medium is possible (normally before filtration): Blow back, Backwashing
Precoat filtration: Secure fine filtration efficiency, prevents filter media from clogging
---
How CPE Cricket Filters Work
Wet cake discharge
Precoating (Optional)
Filling
Recirculation
Filtration
Emptying
Backwashing
Slurry discharge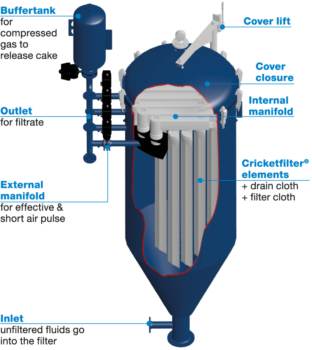 ---