About CPE Pulse Tube Filter
Chemical Plant & Engineering offers a range of Pulse Tube filters for fine filtration in various applications, such as food, chemical, and water/wastewater treatment. We custom design filters to suit your specific process needs.
What is a Pulse Tube Filter?
Pulse Tube filters operate in a vertical pressure vessel with filter medium covering internal filtrate flow pipes.
Pulse tube filters may also be used for specific applications where a combination of filter media structure with cloth media covering is advantageous over a standard pressure leaf filter.
This filter type allows "Blow Back" process, which is used for popping the formed cake off the filter media.
Pulse Tube Filter Applications
Pulse Tube Filter

Filtering fibrous product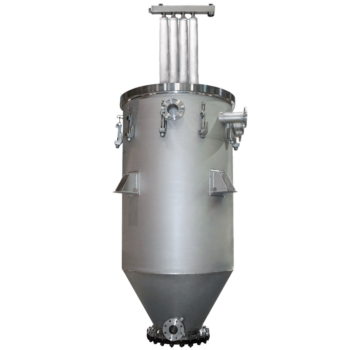 ---